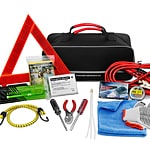 Virtually all drivers in Wadsworth, OH experience a roadside emergency at one time or another. Although you may not like to think about this eventuality, Prestige Auto Credit recommends that you prepare yourself and your vehicle for an emergency when you're away from here. Consider the following tips to remain safe on the roadside.
Having the proper tools on hand is essential. Items you can easily buy in Akron, OH for your roadside kit include first aid kits, jumper cables, road flares, flashlight, multipurpose tool, empty gas jug, blanket, bottled water and snacks, pen and paper. Having a cell phone charger available if you don't have wireless charging is also a good idea.
When an emergency occurs, pull off the road as far away from traffic as possible. Make sure motorists can see your vehicle through emergency lights or rad flares. Call for assistance and exercise caution when accepting help from good Samaritans and others who come along.