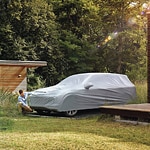 Investing in a car cover has several benefits for vehicle owners, but many people don't have them. If you want to provide optimal protection for your vehicle, getting a cover is a great way to increase your vehicle's longevity. Here are a few reasons why car covers are essential:
There are several benefits of a car cover. In fact, a cover is one of your vehicle's greatest protections.
There are several things that can contribute to your vehicle's wear and tear, such as the sun, animal deposits, tree saps, and more. A car cover will protect your vehicle by preventing the paint from scratching and fading. It also prevents your interior from discoloring and cracking.
For drivers in Akron, OH that enjoy low-maintenance vehicle care, you can reduce your time cleaning your vehicle with a car cover. Covers protect your vehicle from getting dirty and wet when the season is rainy and snowy outdoors.