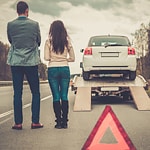 With winter bearing down on much of the country, it is more important than ever to make sure that your vehicle carries a roadside emergency kit. The automobile experts at Prestige Auto Credit in Akron, OH are here to help you to determine what items to include in your kit.
The first items to stock your kit with are the essential tools needed when driving in adverse weather conditions. This includes an ice scrapper, a snow shovel, a blanket, hand warmers, and kitty litter or sand to gain traction when stuck. Regardless of the weather, you should always carry a pair of jumper cables, a flashlight, and a first aid kit.
Miscellaneous items that can be a lifesaver include a cell phone charger, non-perishable snacks, bottled water, and a basic set of tools. Do not let yourself get caught off guard in Wadsworth, OH. Being prepared in a roadside emergency could save your life.